Trending Labor Law Posting Topics
Avoid Labor Law Posting Gaps – Download Free e-Guide Today !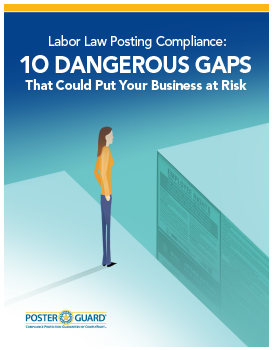 It's difficult to keep up with posting requirements in the ever-changing labor law environment. Take the opportunity to learn more about often overlooked gaps that can impact your business, such as:
County and city postings
Spanish postings (even if you have no Spanish-speaking employees)
Remote workers
And much more
Never Worry About Labor Law Posting Changes Again
with Poster Guard® Compliance Protection
Poster Guard Compliance Protection is the leading labor law poster service that gets your business up to date with all required federal, state and local labor law postings, and then keeps it that way -for an entire year.
YOU ENROLL and receive an up-to-date federal, state, county and city poster set
WE MONITOR and ship you a replacement poster (free of charge) every time a mandatory federal, state or local change occurs
WE GUARANTEE our posters are 100% compliant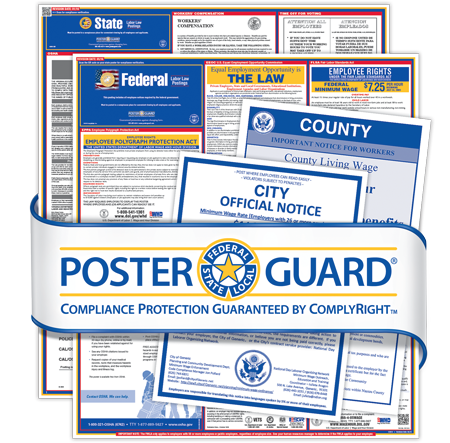 What Makes Poster Guard Different?
Here's What
Our Customers
Are Saying…

Poster Guard is really a time saver for me when I don't really have the extra time to research all the new laws as quickly as they happen. The service makes me feel more at ease knowing that our company is up to date as the changes happen. Thank you"
Barbara Hartley, Associated Citrus Packers

"Poster Guard does the hard work for me. There are so many changes going on that it is difficult to track them by myself. I always know I am in compliance and my employees are correctly informed of their rights."
Belinda Hayworth, HR Specialist

"It's simple to manage my account online. I also like that updated posters are automatically shipped when changes are implemented so I don't have to worry about it."
Theresa Muniz, HR Manager

"The service is great for keeping on top of all the different sites in different states where we have offices. I know that the Poster Guard team is on top of all mandatory changes and gets us the posters that have to go up."
Jamie Goldstein, HR Coordinator
Previous
Next