Experience the
Poster Guard Difference
Poster Guard® Poster Compliance Service guarantees worry-free labor law posting compliance for employers large and small. Our comprehensive solutions, unmatched legal expertise and exceptional customer service set the standard for the industry.
Dedicated Account Specialists at Your Service
Our expert Poster Guard specialists are available by phone or email to answer your questions and ensure you have everything you need for efficient, worry-free compliance. Large accounts are assigned a dedicated National Account Manager for tailored assistance.
Beyond the outstanding service you receive from our Poster Guard service team, you can be confident you're working with a business that consistently receives an A+ business rating from the Better Business Bureau.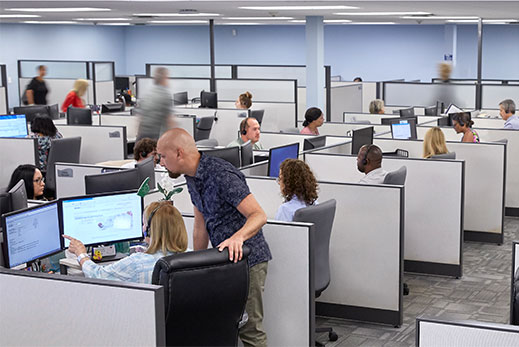 Timely Email Notifications for Your Peace of Mind
With Poster Guard, you always know what's happening thanks to our detailed email alert system, which includes:
Shipping confirmation of your initial order (with UPS tracking code)
Immediate notification of every mandatory posting change that affects you
Shipping confirmation of replacement posters (with UPS tracking code)
Service renewal notification
Invoices and account statements
As a Poster Guard member, you'll also be informed of postings changes that do not require immediate updating. (We call these "non-mandatory" changes.) We do this as a courtesy, to clear up any confusion that might result from hearing about the changes in the news or from other, less-reliable sources.
Self-Service Website Puts All the Information
You Need at Your Fingertips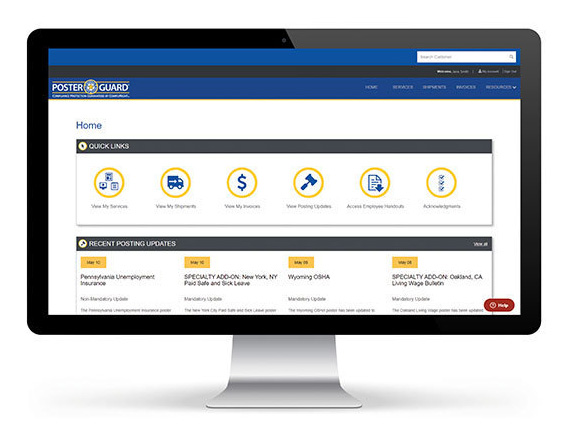 For customers with multiple business locations, our secure, self-service website provides centralized control and easy administration. Just log in to the members-only section of MyPosterGuard.com to view all posting changes that affect your business, add/delete locations, track shipments and audit compliance at each location in real time.
For real-time compliance verification, Poster Guard posters feature ComplyScan™ QR codes. Just scan the code (located in the upper left corner of the poster) using a QR reader app on any web-enabled mobile device. This gives you immediate access to an up-to-date web page containing a full image of all required postings along with the most recent revision date. It's a quick and easy way to confirm that you are displaying the most current Poster Guard posters.
Download the PDF to learn more about the robust features of our self-service web portal.
Here's What
Our Customers
Are Saying…

Poster Guard is really a time saver for me when I don't really have the extra time to research all the new laws as quickly as they happen. The service makes me feel more at ease knowing that our company is up to date as the changes happen. Thank you"
Barbara Hartley, Associated Citrus Packers

"Poster Guard does the hard work for me. There are so many changes going on that it is difficult to track them by myself. I always know I am in compliance and my employees are correctly informed of their rights."
Belinda Hayworth, HR Specialist

"It's simple to manage my account online. I also like that updated posters are automatically shipped when changes are implemented so I don't have to worry about it."
Theresa Muniz, HR Manager

"The service is great for keeping on top of all the different sites in different states where we have offices. I know that the Poster Guard team is on top of all mandatory changes and gets us the posters that have to go up."
Jamie Goldstein, HR Coordinator
Previous
Next