Shop by Category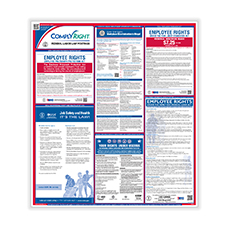 EFEDP
Satisfy Mandatory Posting Regulations with Federal Labor Law Poster
On June 14th, the EEOC released a revised "Know Your Rights" poster to include information about the protections under the Pregnant Workers Fairness Act (PWFA). Effective June 27, 2023, the PWFA requires covered employers to post a notice describing the law's protections.
The Federal Poster by ComplyRight gets you into immediate compliance with mandatory postings impacting all U.S. employers. The all-in-one labor law poster includes current versions of all six required postings: EEOC, EPPA, FLSA, FMLA, OSHA and USERRA.
English - ERFED • Spanish - ERFEDSS • Bilingual (Engl+Span) - ERFEDBIL
See Product Options tab for guidance on language selection.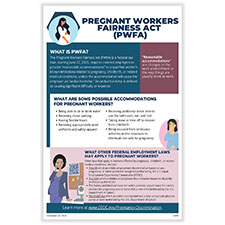 A2040
The Pregnant Workers Fairness Act (PWFA) that went into effect on June 27, 2023 requires covered employers to provide reasonable accommodations to qualified employees or applicants with known limitations related to pregnancy, childbirth, or related medical conditions.
Display this poster, developed by the Equal Employment Opportunity Commission (EEOC), to let your staff know that those who are pregnant will not be discriminated against and have rights for reasonable accommodations. See more details...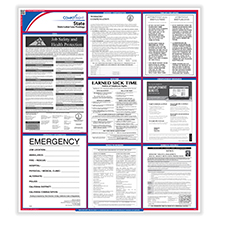 ESTATE
Comply with State Posting Requirements with State Labor Poster
The State Poster Set by ComplyRight provides immediate compliance with state-issued, mandatory state labor law posters — as many as 15 postings, depending on your location.
Please note: county, city and industry-specific posters are sold separately. Contact a Compliance Specialist at 800-999-9111 for assistance.
See Product Options tab for guidance on language selection.