Nearly Half of U.S. States Will Increase Minimum Wages
The legal environment for employers is always changing, particularly with state labor law requirements. For example, in the absence of any movement at the federal level for more than 10 years, state legislatures continue to issue higher minimum wages.
As we approach 2020, a handful of states will need to comply with these updated rates, as well as the workplace postings employees of their rights.
Are You Among the 21 States with New Minimum Wages in January 2020?
The federal minimum wage remains at $7.25/hr., but it's a different situation with the various states that have passed their own, higher minimum wages. As we enter the new year, here are the various states experiencing updated rates: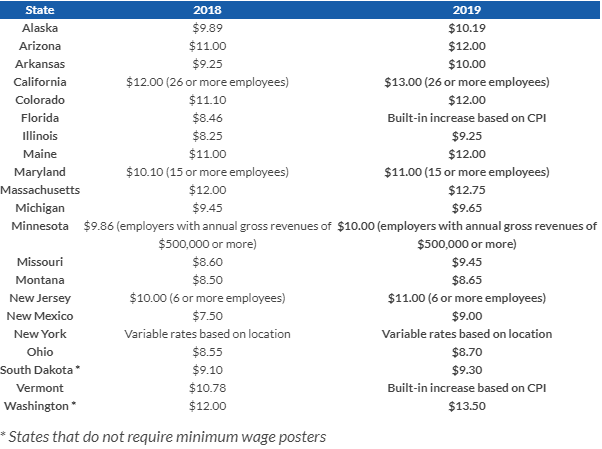 Protect Your Business with Federal and State-Specific Posting Coverage
If you operate a business in most of the states listed above, your labor law postings will be outdated if they don't include the new 2020 minimum wage increases. To ensure complete compliance, follow these pointers:
When federal and state minimum wage laws differ, be sure to display all postings in each business location – even if they conflict. Recognize, too, that you must pay workers a higher amount.
Check out the Minimum Wage Monitor to view and compare minimum wage rates across the nation. The map covers four years of data from all 50 states, including rates and effective dates.
Use our dedicated service, Poster Guard® Compliance Protection, for 365 days of guaranteed, hassle-free labor law posting compliance. You'll receive an up-to-date federal, state and local poster set, along with automatic poster replacements every time a mandatory change (such as minimum wage) occurs.
Poster Guard® Compliance Protection, for 365 days of guaranteed, hassle-free labor law posting compliance. You'll receive an up-to-date federal, state and local poster set, along with automatic poster replacements every time a mandatory change (such as minimum wage) occurs